Back to School time is the most exciting!! I am thrilled to sorta-kinda know what I am doing this year and have a handful of lessons/activities to choose from! I like to have a plethora of options to choose from since you never know what will happen that first week! I wanted to highlight the BEST back-to-school activities for 2nd grade. 
# 1 Puzzle About Me 
First, after listening to
"The Day You Begin"
, students illustrate pictures that represent them on the puzzle paper. I love how this book highlights the strength of our differences and backgrounds. 
Encourage them to fill the entire page! Then, they cut it out and swap it with a partner.  Once they have put their partner's puzzle together, they can share their pictures. You can
grab this activity for free here. 
This year, I bought actual real puzzles for them to use! They were
$12.99 for 24 from Amazon.
This eliminates the cutting part (which to be honest takes a long time but I break it into 2 days or have students help one another).
#2 Behavior Stories
After getting to know you, it's important to focus on expectations. Every teacher knows ALL that expectations and routines are what make the classroom run smoothly.  A few years back I decided to create some
stories about fictional students
who make positive and negative choices.  We use these stories to jumpstart conversations about behavior, not just in the classroom but all over the school.  This packet includes recess, lunchroom, bathroom, hallway, groups, and homework! You could even have students act out the fictional character to model acceptable and unacceptable behavior!
#3 Mrs. Spitzer's Garden
Next is a new activity for this year.  I was recommended this book, Mrs. Spitzer's Garden, as a great back-to-school read-aloud.  I immediately bought it from Amazon (because that's what I do when people suggest buying anything school-related).
It is the sweetest, most endearing book.  I may have teared up as I read it to my husband who proceeded to make fun of me.  So of course I had to whip up some activities to go with it.  
#4 Math Tools Exploration Activities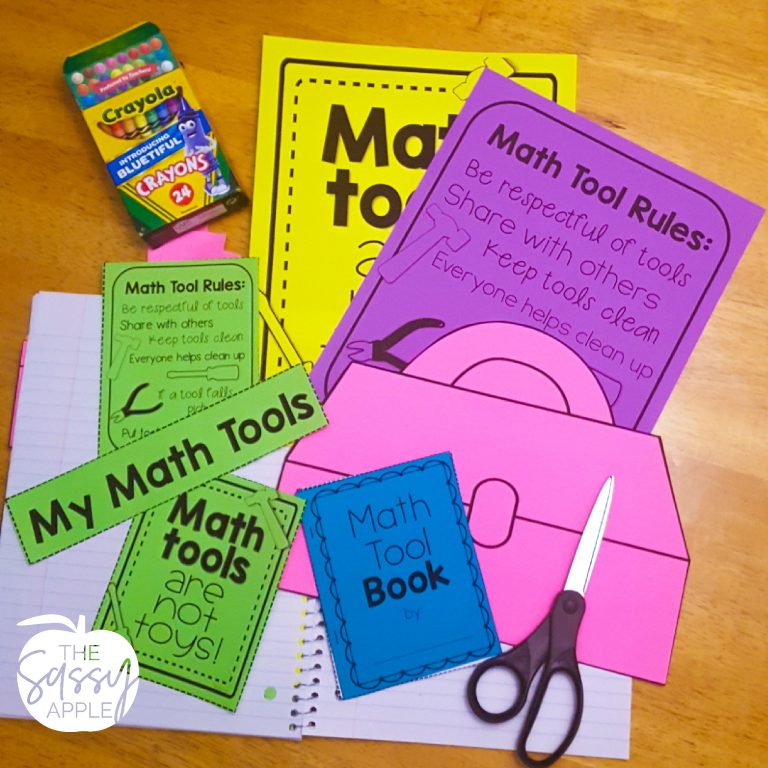 After that, we move on to expectations in math. Students just love math manipulatives but let's be honest, some students see them as toys instead of tools.  So I use one of those first days to review how we use each math tool and allow for a few minutes of free exploration before we go over expectations.
Then, to be sure that we are all on the same page, they complete this sort of dos and don'ts.  It is something I like to hang onto for those inevitable slips where Johnny flings a rubber band across the room.  I can pull this out as sort of a contract, if you will, to remind him that I know that he knows he shouldn't be doing that!
#6 Trash Can Math
Finally, my favorite game ever is Trash Can Math. I think I mention this game in pretty much every blog post about back-to-school activities.  I won't go into details but you need to know it is the best game ever and you should go read about it in the blog post where I do go into details
—-here—-
.
So there ya go, those are what I have found to be the BEST back-to-school activities for 2nd grade. 
What are your favorite first-week activities?