Ah, St. Patrick's Day – a holiday where you can let loose and indulge in a bit of fun. To get your students (and yourself) into the festive spirit, why not whip up some cheeky classroom activities? These five ideas are sure to bring about plenty of excitement and keep everyone engaged while keeping learning at the forefront. So put away the textbooks for now; it's time to let your inner leprechaun out!
Skittles Rainbow
This is such a fun activity for March! All you need is paper plates, skittles, and some water. I used this free recording sheet. Start by having students line up their skittles on the outer edge of the plate. They can do this in any order they would like. They color the circles on the recording sheet to match the way they have set up their Skittles. Then, they make a prediction about what will happen when water is added to the plate. Finally, add the water and watch the colors flow! After a few minutes, have them color their recording sheet to show the results.
This is PERFECT to pair with the Magic School Bus episode called "Makes a Rainbow". You can find it on YouTube here.
March Memory
How much can your students remember about the picture? Test their skills by displaying the themed scene for a few minutes. Then, flip to the question page! Students are LOVING these activities for a quick brain break, fun Friday activity, or reward.
Have fun practicing skills like:
⭐️attention to detail
⭐️working memory
⭐️focus
⭐️vocabulary
⭐️and more!
St. Patrick's Day Books
Celebrate St. Patrick's Day in the classroom this year with some reading! If you're not into leprechaun's messy shenanigans, I saw a wonderful idea to have the leprechaun flip all of your books upside down or swap them all for green books. Making time for books will make for a happy and memorable learning experience for everyone involved! Here are a few of my favorites for this holiday:
March Math Worksheets
Holidays are the perfect time to take a break from learning new concepts and review past learning! These no-prep math worksheets are so much fun for March! They include a wide variety of skills like 3-digit addition, graphing, coins, time, and word problems. They are perfect for a substitute teacher, morning work, or math centers!
St. Patrick's Day Bingo
Who doesn't love a game of bingo?! Bingo is my favorite calm but fun way to celebrate any holiday! This resource includes pre-made boards (in color and black and white) so you can just print and play! Or, if you'd rather make it into a cut-and-paste activity, that option is available as well. Grab this bingo game here.
These activities are the perfect way to include a lot of fun with learning this St. Patrick's Day without a huge fuss. Your students will love celebrating this holiday with books, games, and more! Let your students experience the magic with these amazing activities – they're sure to be incredibly thankful that you did.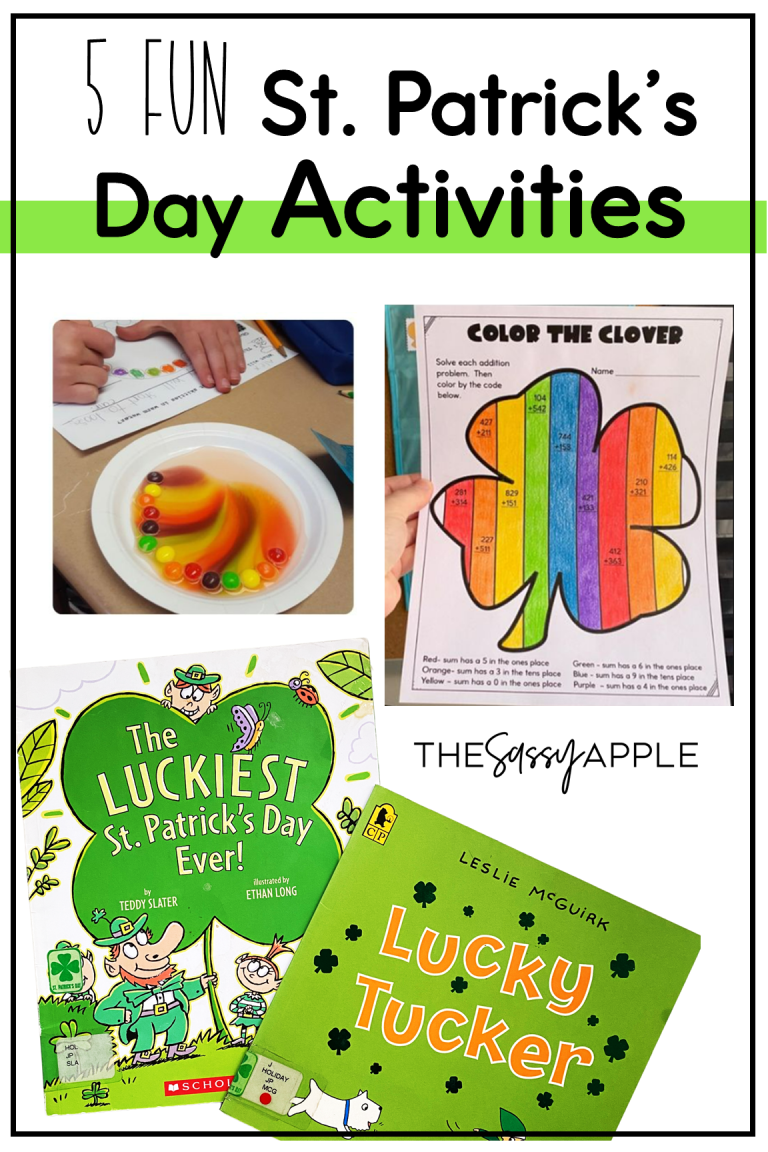 Having trouble keeping your students' attention? Check out this blog post for tips!