It's mid-July and already starting to feel like a Sunday night, even though I have about a month of summer left. Our first official teacher day is August 16th, students come in on Monday the 21st. (EEK!)
My family is going to the beach at the end of July which I planned on purpose to try to make that summer feeling last as long as possible. So, since my vacation is fairly close to when I should be starting to prep for B2S, I am going to do some things now so I am not completely overwhelmed later.
Last year, I shared my first day plans and my first week plans which you can find here and here. I switched up a few things for this year so let me show you what's in store for this year! You can download a copy of the plans here which includes links to all of the resources I will be using (most of them free!).
My morning seems kind of rushed because we have our special daily at 9:15. I like to start the first morning with a coloring sheet–requires zero directions and keeps them busy while I am sure to be dealing with other first day logistics! It allows me to greet my students at the door and show them to their seats. I don't have them hang up their stuff in our closet until we can go over exactly what that should look like and where they should hang it!
After a quick introduction and brief schedule review, they will head to Art. When they get back, my grade level will be doing a walk-through of lunch room procedures and then head out to the playground to go over recess rules. We let them play for a little while before practicing lining up.
Finally, we will be back inside and ready to really start our day. I will start by reading "How to Get Your Teacher Ready" by Jean Reagan (you can find it on Amazon here). After reading, we will talk about how we got ready for school. I am going to just type up each students name and write their response on the Smartboard.
Then, before recess/lunch, I will share about myself and my family. Students will write about theirs in an All About Me flip book. We will do some sharing then get ready for lunch!
After recess and lunch, we will get into some classroom routines and procedures. I will limit this to about 3-4 of the most important: lining up, hand signals (for using bathroom, getting drink ect), coming to the carpet and getting a new pencil. We will talk about it, model it, and practice it a few times. One of my favorite tools for discussing expectations is these
fictional stories about students
who make both positive and negative choices. It helps students recognize what others do well and what they need to improve.
Then we will read THE MOST adorable book called Mrs. Spitzer's Garden. It makes me tear up a little, it's that cute. It's all about a principal giving his teachers their "seeds" for the year and all the teacher does to help them grow. The kiddos might not get the connection right away. I usually read it at the end of the year, too and light bulbs go off!
We will make this craft to go with it.
Four corners is a repeat from last year because it is PERFECT for the first day. It is a wonderful interactive way to get to know students while getting them moving around!
Finally, these bus bracelets will be a fantastic tool for keeping track of everyone during dismissal. Because getting them fed and getting them home (the right way!) are the two most important goals that first day!
You can download the plans above by clicking "PREVIEW" when you visit the link:
Lesson Plans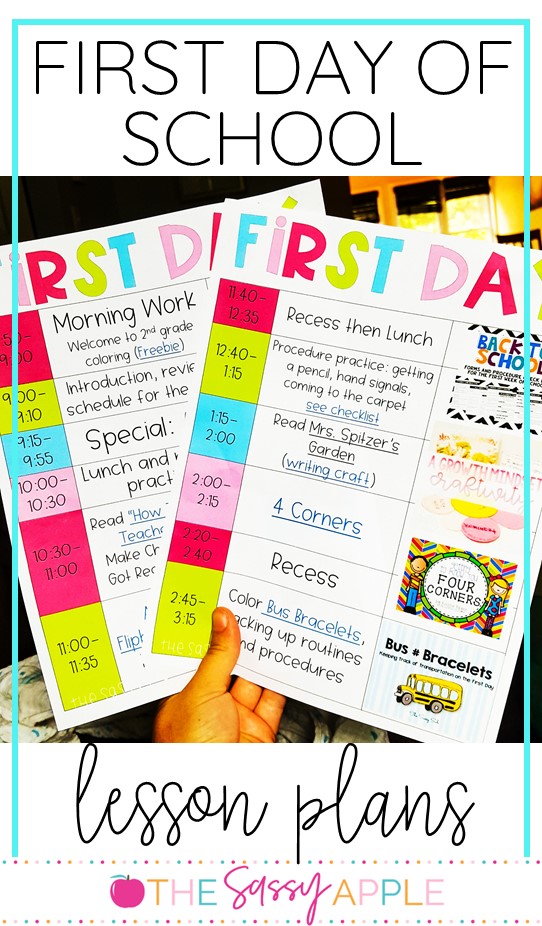 What is your favorite first day activity?