As teachers, the start of a new school year can bring feelings of excitement and anticipation – but also anxiety. The first few days tend to be hectic as everyone gets back in the swing of things; however, there are several steps you can take beforehand to make the transition smoother. From developing lesson plans and setting expected behaviors to making use of technology tools and stocking up on classroom supplies, we've compiled 6 helpful tips for teachers to prep before school begins. Read on to find out more!
Birthday Treat
If you like to give your students a little something on their birthday, this is the perfect time to prep those birthday treats so they are ready to go all school year long. I love making birthday cups. I purchased these plastic cups with dome lids from Amazon and printed labels. The rest of the contents are from The Dollar Tree. It includes some paper confetti, Smarties, stickers, and a crazy straw.
First Week Anchor Charts
The first week of school is an essential time to set the foundation for the rest of the year. To ensure your students have all the knowledge they need to be successful, consider preparing anchor charts together during this exciting period. Parties can collaborate on visuals that illustrate key topics like class expectations and learning objectives. Having a visual resource ready to refer back to throughout the year will help encourage active participation that ensures success for everyone! Together, you and your students can create a positive environment where all kinds of ideas are accepted.
Letter and Forms
One way to establish positive communication before the year begins is by sending a letter! My district allowed this to be sent with students' teacher assignment letters. If this isn't a possibility, you could email it before school or during the first week. Another helpful thing to prep is back-to-school forms. Here are a few ideas you might consider:
Student information form
Health information form
Holiday preferences
Emergency contact form
Transportation form
Student interest survey
Classroom information
Name Tags
Even if you don't have your class list yet, you can think about name tags! I highly recommend a traditional name tag with easy-to-reference information on it. As a specialist and substitute, I have been in many classrooms where students' names were not visible. It makes it difficult to learn student names and identify who should be sitting where. It is also crucial for young learners to have numbers and the alphabet close by for them to reference.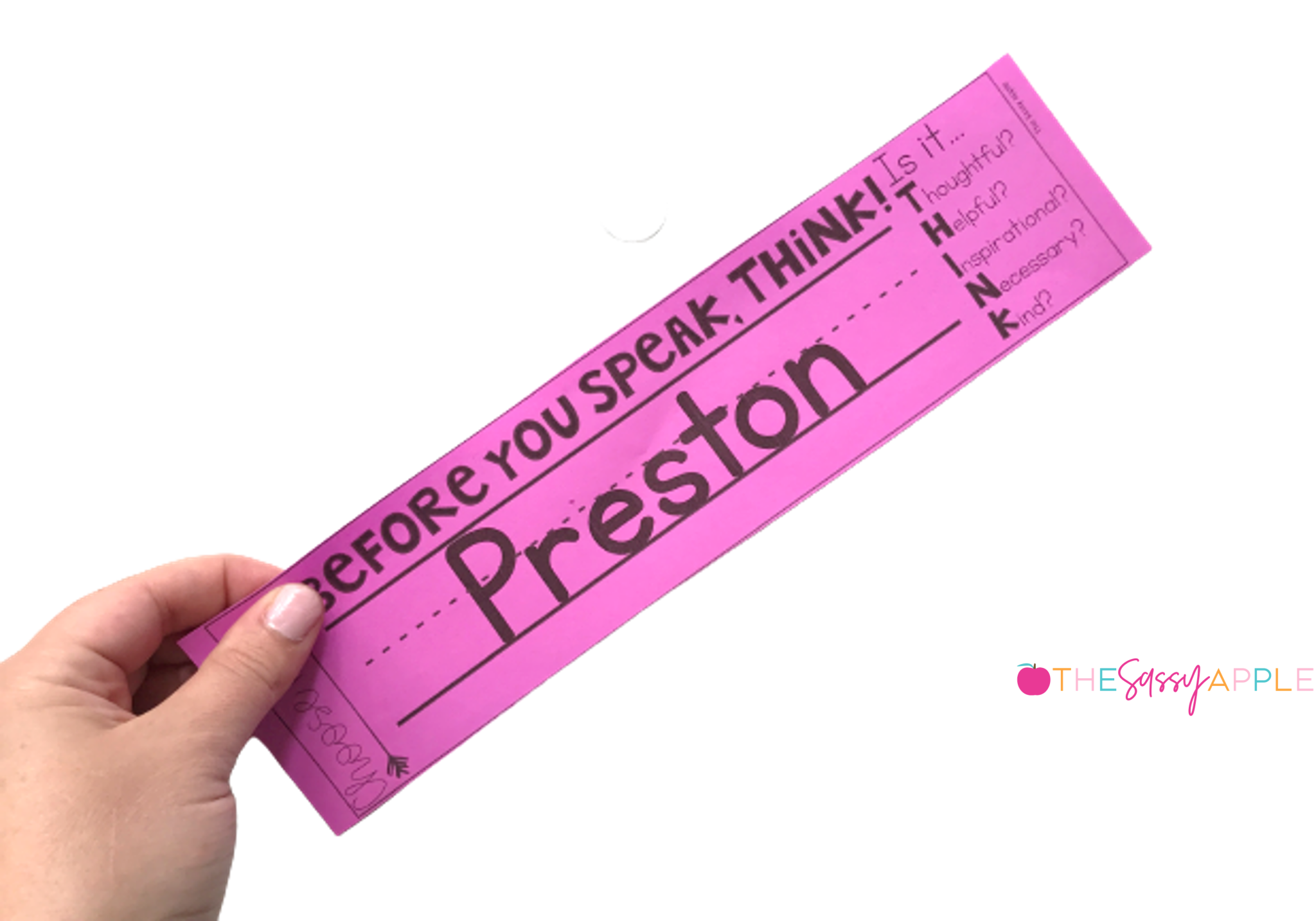 I like to print mine out, laminate it, and attach it with a Velcro dot. This way, students can take them around the room while they are working. I also like being able to choose from MANY options of information included on the nametag. I typically print new ones at least once throughout the year.
Lunch Ideas
I don't know about you but I despise packing lunch. I still do it every day because I'm not a huge fan of school lunches. And, I am too cheap to order food–plus that takes too long. Typically, I made an adult lunchable with cheese, turkey, ranch dressing, cucumbers, and pretzels or crackers. But, when I want to make it more exciting, I head to Pinterest for ideas. Check out my lunch Pinterest Board. Sit down and make a list of lunch ideas that you would like to try. Pick ONE for the week and write down all the ingredients you will need. This will be helpful when you head to the store or place a grocery order. Sometimes, I make a little lunch vision board where I copy and paste photos of lunch ideas to get inspired.
Classroom Procedures
Of all the things teachers prep before school, I think this is the most important! Whether you are a first-year teacher or this is your 8th year, it's always helpful to sit down and think about your classroom procedures. Establishing effective classroom procedures is a great way to make sure that everyone in the room understands what is expected from them. Deciding how you want your classroom to run ahead of the school year's beginning is a great first step in ensuring an effective learning environment. Introducing each routine and procedure as well as practicing them many times will help improve overall productivity, reduce distractions, and aid in enhancing student behavior.
I hope you have found these 6 items for teachers to prep before school starts helpful! As we head into the new school year, I'm sure all of us are feeling a little anxious and overwhelmed. But with these six helpful tips, you can make sure that you're in the best possible position to hit the ground running when the first day arrives.
Taking just a few minutes at the end of each day to prep for your classroom will help ensure that everything goes smoothly in the days ahead. Looking for more back-to-school ideas? Check out my first week of school lesson plans.
The secret to having the most amazing first week ever is in the details! Join my Back to School video series full of tips, tricks, and freebies to help you plan. Join for free here.